Singapore, Singapore, 13th March, 2023
BinaryX announced today the upcoming release of a space-building simulation game, Project Matthew. The team just released the trailer video which gives a first look at the game, and is also opening registration for their Closed Beta Test happening soon. 
Introducing Project Matthew: The Exciting New Space-Building Game
Project Matthew is an upcoming space-building simulation game developed and published by developer BinaryX.
The game takes place in outer space, where players have taken over as landlords of a distant land called Matthew. The goal of the game is for players to build their own extraterrestrial cities, by setting up industrial production lines that produce resources for further development.
Develop A City
The adventure begins as players are given an NFT plot to start their city. Players can build different types of helper robots that will contribute different skills to scavenge, battle, or explore new territories to develop the city.
Lead A Virtual Army
Players can recruit a robot army with different skills and abilities, and challenge enemies on the battlefield to earn massive rewards. The battlefield is divided into different levels of difficulties. The more difficult the level, the greater the rewards.
Explore Space
Exploration is one of the primary ways to obtain rewards and resources in Project Matthew. The gameplay features a collection of neighboring and faraway planets waiting to be explored.
"Project Matthew is our biggest project for the first half of 2023. We wanted to bring in new genres of games into the BinaryX ecosystem, and this game is the first ever simulation game that we will have on our platform. We want our players to immerse themselves in space as landowners and explorers. We're really excited to welcome a whole new group of space enthusiasts and simulation gamers into our expanding community", said Rudy S., Global Head of Business Operations and Development of BinaryX.
Watch the official trailer:
Closed Beta Test Opens For Registration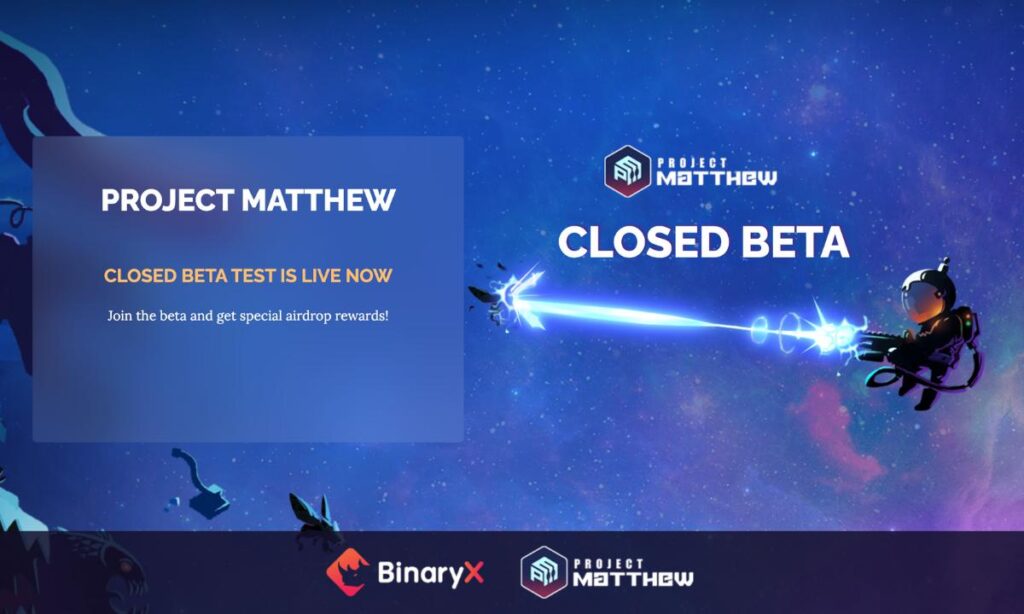 BinaryX is kicking off the launch of Project Matthew with a Closed Beta Test. Registration starts on 13 Mar, 9 PM UTC+8, and closes on 20 Mar 6 PM UTC+8.
The Closed Beta Test will be available to Windows users only, with more details to be revealed on their registration page and social media channels.
Register for the closed beta test here. 
About BinaryX
BinaryX is the GameFi platform behind play-to-earn games CyberDragon and CyberChess, both of which run on the BNB chain. 
BinaryX began as a decentralised derivative trading system. The team gradually evolved into developing decentralised video games, and is now a GameFi platform offering IGO services to bridge Web2 developers to Web3. 
As one of the top 10 projects on the BNB Chain, BinaryX has a vast community of more than 100k coin holders and 17K monthly active wallets. It is also one of the largest metaverse projects by trading volume on the BNB chain, with more than 200 million in market cap. BinaryX also has a token, $BNX, that has consistently demonstrated strong performance despite the bear market.
For more details and information about BinaryX, please visit www.binaryx.pro 
Find us on social media: BinaryX | Twitter | Discord | Telegram | YouTube | Medium
Contact
Communications Lead
Kora K.
BinaryX
marketing@binaryx.pro